08 is the 9th Episode of the parody series, Youjo Shenki.
After the war on Orse Fjord, Second Lieutenant Weiss is injured. Rhiner and Koenig decided to visit him and accompany him. While lying in a medical bed, Weiss states he wanted to consume chocolate after the tiring battle. Luckily, Rhiner knows where to acquire some. Thereafter, they walked out and started to discuss about it.
Then, Rhiner reveals that unfortunately the only possessable chocolate is in Tanya's room. This brought a shock to Koenig, it is a too risky way to take it. But seeing Weiss was desperate for the dessert, the two had decided to do it for their comrade.
Despite them not liking this idea, they bravely went up to their wing commander and requested for some chocolate. It somehow did not anger Tanya but she willingly sent some to Weiss. Weiss was surprised about where they got it from and the amount of chocolates Tanya gave, the the three was united the medical room again.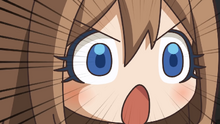 Not long later, Visha came to visit Weiss. As she noticed the treats, she immediately screamed and drooled like a puppy, hoping Weiss will share some with her.